Have you ever wondered why do nurses wear white uniforms? This article unveils the rich history and practical reasons behind this iconic attire. From cleanliness to professionalism, discover the age-old significance of white nursing uniforms, shedding light on a tradition that's still going strong.
Nursing, an age-old profession, has been characterized by its distinctive white uniforms for generations. The question that often arises is, "Why do nurses wear white?" This seemingly simple choice of attire carries a rich history and practical reasoning. In this exploration of nursing uniforms, we will journey through time to uncover the evolution of these pristine garments and their significance in different parts of the world.
From the United States to Japan, each country has its unique take on nursing attire. But the white uniform symbolizes purity, professionalism, and practicality. In this blog post, we will delve into the reasons behind this tradition, the advantages and disadvantages of white uniforms, and address common queries about nurses and their iconic white attire. So, let's unravel the compelling tale of "Why do nurses wear white?"
The journey of nursing uniforms through time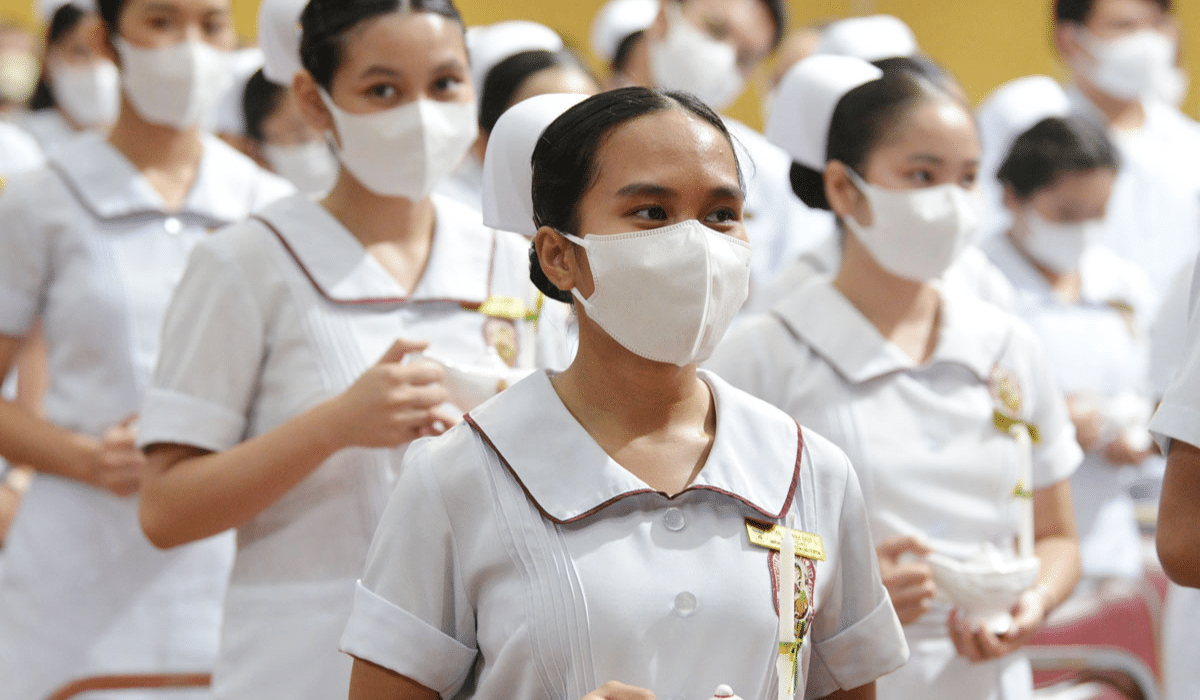 Nursing uniforms have quite the story to tell when it comes to their evolution. You see, they weren't always the stylish and comfortable outfits you might spot today. Let's take a quick trip down memory lane to see how they've transformed over the years.
Back in the 19th century, nursing uniforms were a bit different. Think long dresses and aprons. It wasn't about fashion but about practicality and cleanliness. That's why they were all about that pristine white color.
The 20th century introduced a bit more structure. Nurses started wearing caps, dresses, and white shoes. These outfits made them easily recognizable, and those caps added a touch of professionalism.
Now, fast forward to the 21st century, and you'll see a whole new world of nursing uniforms. Comfort became a top priority. Those stiff dresses made way for comfy scrubs. Plus, there's a burst of colors and prints these days – it's not all about white anymore.
In a nutshell, nursing uniforms have journeyed from basic to comfy, all while keeping hygiene and style in mind. They've adapted to the times, reflecting the needs of healthcare workers. The next time you spot a nurse in their modern uniform, remember the fascinating path it took to get there.
Why do nurses wear white?
Have you ever wondered why nurses wear those crisp, white uniforms? There's a reason behind this classic choice.
White uniforms emphasize cleanliness by easily revealing stains or dirt, which is vital in a hospital setting.
White uniforms convey a sense of trust and professionalism, making patients feel more comfortable and safe when interacting with healthcare professionals.
White was historically chosen for medical uniforms due to its ease of bleaching and disinfection, providing a significant advantage in combating infections.
Despite advancements in modern uniforms, the tradition of white uniforms endures in healthcare.
White uniforms facilitate the quick identification of any unusual colors or substances, aiding in promptly recognizing potential hazards or spills in healthcare environments.
In a nutshell, nurses wear white because it's a practical choice representing cleanliness, professionalism, and safety. It's a tradition that's stuck around for good reasons.
Why do nurses wear white uniforms: Practical benefits unveiled
Have you ever wondered why nurses rock those crisp white uniforms? There are some practical reasons behind it, and we're here to break it down for you.
Easy to spot
Keeping it clean
Fighting infections
Professional vibes
1. Easy to spot
You know that feeling when you're in a busy hospital, and you need a nurse pronto? White uniforms make it a piece of cake to spot them in the crowd. No more playing hide-and-seek when you need medical attention!
2. Keeping it clean
White isn't forgiving when it comes to stains or dirt. That's a good thing in the world of nursing. It means you can quickly see if your nurse keeps their uniform squeaky clean. And when it comes to your health, cleanliness is non-negotiable.
3. Fighting infections
Hospitals can be breeding grounds for all sorts of pesky germs. White uniforms help nurses quickly identify if they've picked up any unwanted hitchhikers. This vigilance is a crucial part of preventing infections, which is a big deal when you're on the road to recovery.
4. Professional vibes
White uniforms have been the go-to look for nurses for a long time. Why? They exude professionalism. When you see a nurse in white, you know they mean business and are ready to take care of you.
So, those white uniforms are more than just a fashion statement. They're a practical choice that benefits you and your well-being.
Nursing uniforms around the world
Nursing uniforms aren't the same everywhere. They differ from country to country, reflecting cultural traditions and practical needs. Let's take a quick world tour of nursing attire:
United States
United Kingdom
Australia
India
Japan
Saudi Arabia
Brazil
1. United States
In the U.S., nurses wear scrubs – those comfy, colorful outfits. They're practical for quick changes and easy to clean.
2. United Kingdom
Nurses in the UK usually wear tunics and trousers. The color of the uniform can indicate their role or seniority.
3. Australia
Down under, nurses go for tunics or dresses, usually in blue or white. Caps have become less common but are sometimes still worn.
4. India
In India, nurses typically wear sarees, but some opt for the more Westernized scrubs. Comfort and cleanliness are key here too.
5. Japan
Japanese nurses are known for their immaculate white uniforms, symbolizing purity and professionalism.
6. Saudi Arabia
Here, nurses often wear traditional abayas and headscarves, adhering to cultural and religious norms.
7. Brazil
Brazilian nurses prefer white uniforms, reflecting the importance of cleanliness and hygiene.
Remember, nursing attire varies, but the core purpose is the same – to provide excellent care to patients. So, wherever you are, nurses work hard to keep you healthy, no matter what they wear.
Why do nurses wear white shoes?
Nurses wear white shoes for some good reasons.
First, white shoes are super easy to clean. Think about all the spills and messes in a hospital – you'd want your shoes to look clean and professional, right? White shoes can be quickly wiped down and sanitized, crucial in a healthcare setting where cleanliness is a top priority.
Second, white shoes look neat and show that you care about hygiene. They make it easy to spot stains or dirt so that you can tackle them promptly. Plus, they give a clean and crisp appearance, which can comfort patients. It's all about creating a trustworthy and reassuring environment.
Another thing, white shoes are practical. They match almost any uniform, making it simple for nurses to coordinate their outfits. Plus, they don't clash with the hospital's standard white attire, creating a uniform and professional look.
In the end, wearing white shoes is about safety too. They help you stand out in a busy hospital, making it easier for colleagues and patients to spot you in case of an emergency.

So, there you have it! White shoes are more than just a fashion statement for nurses; they're all about practicality, cleanliness, professionalism, and safety in the demanding world of healthcare.
What are the advantages and disadvantages of white uniforms for nurses?
Following are the advantages and disadvantages of white uniforms for nurses.
Clean and professional look
White uniforms make you look clean and professional. It's a classic, timeless look that people associate with trust.
Easy to spot
Patients can easily spot you in a white uniform, essential in emergencies. It helps build confidence in your care.
Hygiene
White uniforms show dirt and stains easily, so you can quickly notice if something's not right. This helps maintain good hygiene standards.
Relaxed and comfortable
White reflects heat, keeping you cooler in hot environments. It's comfy and not too warm.
Stains show easily
The biggest drawback is that any spills or stains will be glaringly obvious. This can be embarrassing and may affect your professional appearance.
Maintenance
Keeping white uniforms spotless can be a hassle. You might need to change often, do more laundry, and use stain removers.
Not suitable for all environments
In some healthcare settings, white might not be practical. It may not hide stains in certain situations.
Psychological pressure
Some nurses feel extra pressure to stay super clean in white, which can add to the stress of the job.
In a nutshell, white nurse uniforms look crisp and professional, but they demand extra care to stay pristine. Whether it's the right choice depends on your work environment and how comfortable you are with the constant battle against stains.
FAQs
1. Why do nurses wear white uniforms?
Nurses traditionally wore white uniforms to symbolize cleanliness, purity, and professionalism in healthcare. White was seen as a practical choice for showcasing any stains, ensuring cleanliness.
2. Is it a requirement for nurses to wear white?
No, it's not a strict requirement for nurses to wear white uniforms. In modern healthcare, nurses have more flexibility in choosing their attire, and many healthcare institutions have adopted colored scrubs for practical reasons.
3. What is the historical significance of white uniforms for nurses?
The historical significance of white uniforms for nurses dates back to the late 19th century. Florence Nightingale, a pioneer of modern nursing, introduced white uniforms to symbolize hygiene and to distinguish nurses from other hospital staff.
4. Do nurses still wear white uniforms in modern healthcare settings?
While some nurses may still choose to wear white uniforms, it's less common in modern healthcare settings. Colored scrubs have become more prevalent due to practical considerations, like stain resistance and easy identification.
5. Are there specific rules or guidelines regarding the color of nurses' uniforms?
Different healthcare institutions may have their dress code policies. Some require specific colors or styles of uniforms, while others allow nurses to choose from various options.
6. How has the attire of nurses evolved over the years?
Nursing attire has evolved significantly. In addition to white, nurses have worn blue, pink, and various other colors. Today, scrubs are commonly used due to their comfort and practicality.
7. Are there practical reasons for nurses to wear white?
White uniforms were initially chosen for practical reasons, as they made it easier to spot stains and ensure cleanliness. However, colored uniforms and scrubs have gained popularity for their stain resistance and versatility.
8. What is the symbolism behind nurses wearing white in healthcare?
White symbolizes purity and cleanliness. Historically, it conveyed the idea that nurses were responsible for providing hygienic care to patients. While the tradition has evolved, the symbolism of professionalism and caring remains relevant in healthcare.
Conclusion
In conclusion, the tradition of nurses wearing white uniforms, though it may have evolved over the years, carries a rich history and symbolism deeply ingrained in the nursing profession. White symbolizes purity, cleanliness, and trust, essential for patient care. While the traditional white uniform may not be as prevalent in modern healthcare settings, the symbolic value of white remains significant.
Today, nurses wear various colors and styles of uniforms that reflect both their personal preferences and the ever-changing landscape of healthcare. Nonetheless, the commitment, compassion, and dedication that nurses bring to their roles continue to shine brightly, regardless of the color of their attire. Ultimately, it's the unwavering care and professionalism of nurses that genuinely define their role and make them the heart of healthcare.