Discover the secrets of efficient digital reading with practical tips and essential tools. Elevate your online reading experience with strategies tailored just for you. Dive into digital texts and enhance your skills with this ultimate guide.
Welcome to the digital reading revolution! In this comprehensive guide, we're diving into the world of digital reading, exploring the tools, benefits, and considerations that come with this technology-driven way of consuming literature and information.
From the convenience of e-readers and smartphones to the environmental advantages of digital reading, we'll take you through it all. If you're considering switching from traditional books to their digital counterparts or just want to maximize your digital reading experience, this guide is for you.
Let's explore books together! We'll talk about what's cool and not, find you the right gadget, and even check out digital reading versus old-school vibes.
The digital reading revolution
Remember lugging around those heavy paperbacks? Well, digital reading has completely changed the game, and it's super awesome. Let me break it down for you.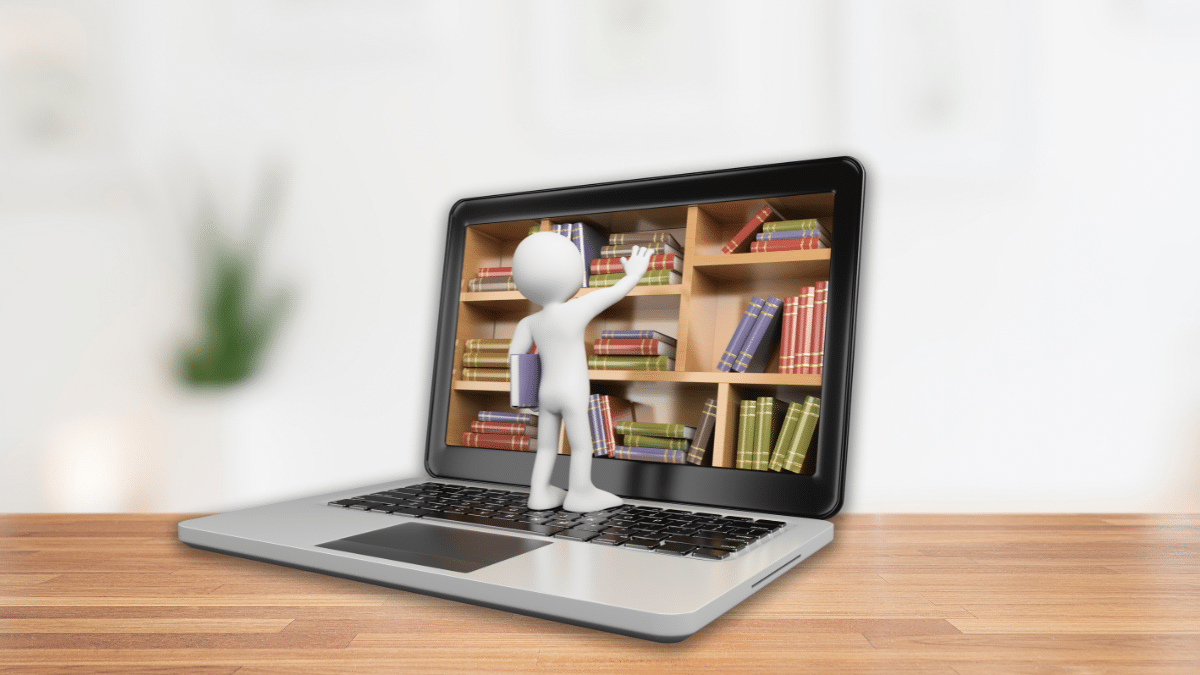 E-readers
Smartphones and tablets
Audiobooks
Interactive E-books
Digital libraries and subscriptions
1. E-readers
E-readers are like a modern-day wizard's spell. They're compact, feather-light, and can stash an entire library. Moreover, they're gentle on the eyes with adjustable fonts and built-in lighting.
2. Smartphones and tablets
Your phone or tablet? They're like your own personal library on the go. E-books, articles, you name it – all at your fingertips. And if your eyes need a little help, just pinch and zoom.
3. Audiobooks
Short on reading time? Say hello to audiobooks! They're like having a storyteller right in your ears. Just pop in your earbuds and let the tale unfold while doing other stuff.
4. Interactive E-books
Some digital books are practically games. You can tap, swipe, and get involved in the story. It's like reading on a whole new level.
5. Digital libraries and subscriptions
Libraries are going high-tech too. E-books, and e-magazines, you can borrow them without budging from your cozy spot. And subscriptions? They give you access to a treasure trove of titles.
Digital reading is still evolving. More immersive experiences, better accessibility, and who knows, maybe even some virtual reality reading are in the pipeline.
What are the benefits of digital reading?
Digital reading has become a game-changer, and it's super handy. Here's why you should get on the digital reading bandwagon:
Super handy
Search made easy
Custom reading
Budget-friendly
Save the planet
Instant gratification
Effortless notes
Multi-gadget love
Audio fun
1. Super handy
Imagine having a whole library in your pocket. No more lugging around heavy books. You can read wherever you fancy – on the bus, cozy in bed, or at the park.
2. Search made easy
Forget where you read that thing? No worries. Digital books are like magic – just type a keyword, and ta-da! You find what you're looking for.
3. Custom reading
Tired eyes? No problem. You can tweak the font size, style, and background color to suit your comfort.
4. Budget-friendly
E-books often cost less than the old-school paper ones. Plus, you won't need a new bookshelf to pile them up.
5. Save the planet
Digital is eco-friendly. No trees need to suffer for your reading pleasure.
6. Instant gratification
Forget waiting for delivery. Buy a digital book, and it's yours in seconds.
7. Effortless notes
Highlighting and jotting down notes is a breeze. No more hunting for sticky tabs or a pen.
8. Multi-gadget love
Read on your e-reader, tablet, phone, or computer. Switch between them without losing your spot.
9. Audio fun
Some e-books even come with audio options. Perfect for when you're on the move.
How do you choose a suitable gadget for digital reading?
So, you're all set to dive into the world of digital reading, but you're unsure which gadget to pick. No worries, we've got your back! Here's a simple guide to help you choose the perfect gadget for your digital reading adventures.
Consider your reading habits
Screen size matters
Battery life
E-ink or LCD
App ecosystem
Budget
1. Consider your reading habits
Think about how you like to read if you love the feel of a physical book, an e-reader like a Kindle mimics that experience. If you read in short bursts while on the go, a smartphone or tablet might be your best bet.
2. Screen size matters
Bigger isn't always better. A larger screen can be excellent for comics and magazines, but it can also be heavy and bulky. Smaller screens are great for portability.
3. Battery life
Who wants their gadget to die in the middle of a thrilling novel? Check for devices with long battery life, especially if you're a marathon reader.
4. E-ink or LCD
E-readers like Kindle use E-Ink screens, which mimic actual paper and are easy on the eyes. Tablets and phones use LCD screens that can strain your eyes during extended reading sessions.
5. App ecosystem
If you love using specific reading apps or services, ensure your gadget supports them.
6. Budget
Your wallet matters. E-readers can be budget-friendly, while high-end tablets can be pricey.
By considering these factors, you can choose the gadget that's just right for your digital reading journey. Happy reading!
What are the advantages of digital reading?
When you switch to digital reading, you open up a world of benefits that make your reading experience way better. Here's what's in it for you:
Portability
Adjustable text
Search and find
Environmentally friendly
Convenience
Night owls rejoice
Dictionary at your fingertips
Note-taking made easy
Accessibility features
Updates and syncing
1. Portability
With digital books, you can carry an entire library in your pocket—no need for heavy bags or shelves full of books.
2. Adjustable text
You can make the text bigger or smaller, change the font, and even use screen-reading tools to suit your preferences.
3. Search and find
Finding stuff is a breeze. Just type in a keyword, and you'll quickly locate what you need—no more flipping pages for ages.
4. Environmentally friendly
Go green! Digital reading reduces the need for paper, saving trees and reducing waste.
5. Convenience
Purchase and start reading instantly. No more waiting for delivery or rushing to the bookstore.
6. Night owls rejoice
Read in the dark without a bedside lamp, as many devices offer built-in light settings.
7. Dictionary at your fingertips
Instant word definitions – just tap on a word you don't understand and voila, there's the meaning.
8. Note-taking made easy
Highlight, make notes, and bookmark pages without sticky notes or pencils.
9. Accessibility features
Digital reading accommodates those with visual or physical impairments, providing tools like text-to-speech and customizable fonts and colors.
10. Updates and syncing
Your digital library stays current across all your devices, making it super easy to pick up where you left off.
So, why not give digital reading a try? It's convenient, customizable, and eco-friendly – a win-win for book lovers like you.
What are the disadvantages of digital reading?
Reading digitally has its perks, but not all sunshine and rainbows. Let's dive into the downsides.
Eye strain
Distractions galore
Battery woes
No book smell
Ownership issues
Screen glare
1. Eye strain
Staring at screens for too long can tire out your eyes. The blue light emitted from devices can mess with your sleep too. So, remember to take breaks and maybe use those blue light filters.
2. Distractions galore
When you're reading online, it's easy to get distracted. Social media, notifications, and cat videos are just a click away. It can be hard to stay focused on your book.
3. Battery woes
E-readers and tablets need juice. So, if you're in the middle of a good story and your battery dies, it's a bummer. Physical books never run out of battery!
4. No book smell
Digital books don't have that lovely, musty book smell. Some people miss flipping pages and that particular scent from an old book.
5. Ownership issues
When you buy a digital book, you don't own it. You're just getting a license to read it. If the platform goes kaput, you might lose your books.
6. Screen glare
If you're outside in the sun, reading on a screen can be challenging because of the glare. Physical books don't have this problem.
Now that you know the not-so-great parts of digital reading, you can decide if it's right for you. It's all about finding the balance for you and your reading habits.
Traditional reading vs Digital reading?
So, you're thinking about how you like to read, huh? There are two ways: the old-school way and the digital way.
| | | |
| --- | --- | --- |
| | Traditional reading | Digital reading |
| Description | Holding an actual book, feeling pages, no batteries | E-books on a device, entire library in one place, screen strain |
| Sensory experience | Feel pages, smell paper, turn pages | Searchable, staring at a screen, potential eye strain |
| Distractions | No pesky notifications | Tempting apps and notifications |
| Advantages | Easy on the eyes, helps stay focused | Entire library in one device, searchable content |
| Disadvantages | No search function, physical storage space | Screen strain, potential for distractions |
So, which one's better? Well, that's your call. Some people swear by the physical book experience. Others can't live without their e-readers. Why not give both a try and see which one clicks with you? After all, it's all about what makes your reading time the most enjoyable. Happy reading!
FAQs 
1. What is digital reading, and how does it differ from traditional reading?
Digital reading is reading books and content on electronic devices like e-readers, tablets, or phones. It's different from traditional reading because it uses screens instead of paper, making it easier to access a wide range of books and content.
2. What are the advantages of using e-books or digital reading platforms over physical books?
Digital reading offers benefits like carrying many books in one device, adjusting font sizes, easy word lookup, quick access to a vast library, and it's also environmentally friendly as it reduces the need for paper.
3. How can I choose the right e-reader or digital reading device for my needs?
To pick the suitable device, consider factors like screen size, resolution, compatibility with e-book formats, battery life, and features like backlighting. Research and compare models to find one that suits your preferences and budget.
4. Are there any potential drawbacks or challenges associated with digital reading, such as eye strain or distractions?
Yes, digital reading can lead to eye strain if you read for too long without breaks. Distractions from notifications or other apps on your device can also be an issue. To prevent this, take regular breaks, adjust screen brightness, and use "do not disturb" modes.
5. Where can I find many e-books and digital reading materials online?
You can discover e-books on platforms like Amazon Kindle Store, Apple Books, Google Play Books, Project Gutenberg, and even through library e-book lending services like OverDrive.
6. What are some effective strategies for taking notes, highlighting text, and organizing digital reading materials?
Most e-readers and reading apps have features for highlighting, making notes, and organizing content. Use these tools to mark important passages, jot down notes, and create collections or folders for easy organization.
7. How can I ensure the security and privacy of my digital reading habits, including protecting my personal information and data?
Make sure your e-reader or app is kept updated with the latest security patches. Be careful about the personal information you share online, especially when purchasing. Use strong and unique passwords for your accounts to enhance security.
8. Are there any legal or copyright considerations regarding downloading and sharing digital books and other reading materials?
Yes, there are copyright laws that protect the rights of authors and publishers. When downloading e-books, make sure you're getting them from reputable sources. Sharing e-books may have copyright restrictions, so it's essential to understand and respect these laws to avoid legal issues.
Conclusion
To wrap things up, delving into digital reading opens up a world of possibilities that can truly transform our reading experiences. Armed with the helpful tips and tools explored in this guide, we can make our reading habits more efficient, convenient, and enjoyable. From fine-tuning your e-reader settings to taking advantage of note-taking apps and embracing audio formats like audiobooks and podcasts, there's something for everyone.
The key is finding that balance between the digital and the traditional to get the most out of our reading journey. So, as you venture into the exciting world of digital reading with the insights and tools from this guide, get ready to discover literature in new and exciting ways. Happy reading!