In the ongoing war between Ukraine and Russia, Ukraine's incredible determination and strength play a significant role and might determine the war's outcome. Let's investigate the remarkable strength displayed by the people of Ukraine.
Ukraine's remarkable resilience may prove decisive in the long war with Russia. They've done it through hard work and smart choices, like strengthening their government, using technology for public services, and involving people in important decisions. They've also built a strong culture of volunteering, where people help each other out.
Even though Russia is considered a superpower, many thought they could easily defeat Ukraine. But the truth is, Ukraine has proven them wrong. Ukraine's amazing strength has made Russia seem less powerful by comparison. This surprising twist challenges what we thought about power and shows the Ukrainian people's incredible determination and strength, even during these brutal times.
Read on further as we take a closer look at how, over the past eighteen months, the people of Ukraine have overcome the destruction and disruption created by Russia's invasion. We'll peek at this conflict's background and understand why it happened. We'll also explore the steps the Ukrainian government and its people have taken in the past and continue to take today, which have led to some positive changes during these challenging times.
How Ukraine's remarkable resilience may prove decisive in the long war with Russia
Amid the ongoing conflict with Russia, Ukraine's resilience often goes unrecognized. This resilience primarily pertains to Ukraine's capacity to confront and respond to the multifaceted challenges of Russia's hybrid or "gray zone" warfare.
Exploring the idea of "gray zone" warfare involves secret strategies Russia uses. These tactics include forcing Ukrainians to leave their homes, giving out Russian passports in newly occupied areas, causing disruptions in essential services like power and water, and spreading lots of false information. The main goal of these actions is to weaken Ukraine's resolve to resist and break trust in its government and independent media. What's truly impressive is Ukraine's ability to keep going and adjust despite these challenges.
Despite Russia's ongoing efforts and the image of Ukraine as a country facing difficulties, the reality tells a different story. Ukrainian leadership has shown remarkable strength and effectiveness in governing, even amid a long-lasting conflict.
Challenges of governance in times of conflict
Surprising strength amid invasion
Challenges of governance in times of conflict
The main challenge for Ukraine and its allies right now is to strengthen their ability to bounce back, not just in military matters but in other areas. Ukraine's functional democracy is a standout feature that has gained support from around the world. Most people believe that the conflict should be a reason to make Ukraine's governing systems even stronger and more up-to-date so they're not as easily influenced by Russia.
Ukraine is taking a comprehensive approach to this resilience, recognizing that making democratic changes is crucial to how society responds to Russian aggression. This approach sets Ukraine apart from many European Union countries, which might not focus as much on building up their democratic strength.
Surprising strength amid invasion
In 2022, Ukraine's ability to stay strong and adapt during a big Russian invasion surprised many people. While Ukraine used to be seen as a place with little unity and people not being very involved, things changed. Many factors contributed to this newfound strength, but it mostly came from the nation's determination to resist.
In a nutshell, Ukraine's capacity to keep going and adjust when dealing with the challenges posed by Russia's tricky warfare methods highlights how crucial it is to have strong democratic institutions, build strong social connections, and support local communities when facing external threats.
Unraveling the history threads: What is the history behind the Ukraine-Russia conflict?
In delving into the Ukraine-Russia conflict and understanding Ukraine's brilliant resistance, it's important to grasp the historical backdrop of this ongoing struggle. Let's look at its origins to understand where things stand today fully.
In the shadow of the 20th century: Ukraine's turbulent history and the ongoing Russia-Ukraine conflict
The contemporary conflict
In the shadow of the 20th century: Ukraine's turbulent history and the ongoing Russia-Ukraine conflict
Ukraine declared independence from Russia in 1918 during a time of conflict. Its sovereignty was recognized internationally. But the Soviet Union later swooped in and took control. Ukraine was a separate entity briefly but ended up back in the Soviet Union.
In the early 1930s, a devastating Holodomor famine hit Ukraine, primarily due to Stalin's policies. Millions of Ukrainians perished from hunger.
Things got even more complicated in the late 1930s and during World War II. The Soviet Union annexed parts of Ukraine from Poland and Romania. Then, Ukraine faced invasion and occupation by Nazi Germany and its allies, causing massive destruction.
In 1991, Ukraine declared independence with an overwhelming 92 percent voter endorsement. Russia, Ukraine, and Belarus acknowledged the end of the Soviet Union. Ukraine began transitioning to a market economy and inherited a significant stockpile of nuclear weapons that once belonged to the Soviet Union.
In 1994, under the Budapest Memorandum, Ukraine gave up its nuclear arsenal for Russia's commitment to respect its independence, sovereignty, and borders.
The contemporary conflict
Let's rewind to 1991 when the Soviet Union, a major world power, crumbled. Ukraine emerged as an independent country. That was a defining moment, but Russia wasn't too thrilled. Ukraine is strategically vital with its pipelines, industries, and the coveted Crimean Peninsula.
Things heated up in 2014. Protesters in Ukraine ousted President Viktor Yanukovych, who had cozy ties with Russia. These protests in Kyiv resulted in over 100 deaths and started a pro-Western shift.
The interim government that followed signed a trade agreement with the European Union, signaling Ukraine's desire to align more with the West. But then, Russia pulled a bold move, annexing Crimea, leading to a complex conflict in eastern Ukraine.
In Donetsk and Luhansk, people declared themselves independent with Russia's backing, and the fight began. This protracted conflict has claimed thousands of lives, and the front lines have barely budged.
In 2014-2015, negotiators made efforts for peace with the Minsk Accords, but many have seen them as unclear.
Fast forward to 2019, and Ukraine elected Volodymyr Zelensky, a former comedian, as its president. He promised peace and the return of the Donbas region.
In 2021-2022, Russian President Vladimir Putin sought to prevent Ukraine from getting too cozy with the United States and its allies. He demanded "security guarantees," including assurances that Ukraine wouldn't join groups like NATO and the withdrawal of NATO troops from newer member countries.
This historical backdrop provides a deeper understanding of the ongoing Ukraine-Russia conflict, its complexities, and its broader implications.
Ukraine's unyielding resolve: A closer look at the resilience of Ukraine against Russia
Over the last year and a half, Ukraine's incredible ability to withstand the turmoil caused by Russia's invasion has left many people confused. Sometimes, videos appear on social media showing Ukrainians carrying on with their daily lives. This has led some to wonder if the conflict is as serious as it's made out to be. How can people still go to restaurants, have pool parties, or enjoy a stroll in the park while all this is happening, skeptics ask?
These doubters don't quite get it. When you see things going on as usual in Ukraine today, it doesn't mean the war is exaggerated or fake. Instead, it shows the courage and strength that helped Ukrainians face the horrors of the biggest conflict in Europe since World War II.
Military and government resilience
Public sector performance
Private sector innovation
Technological and economic resilience
Economic challenges and triumphs
Military and government resilience
Since Russia invaded in February 2022, Ukraine's resilience has been one of the most important parts of this conflict. When Vladimir Putin decided to start this war, he probably thought any resistance would quickly disappear. He expected Ukraine to fall apart within a few days. But that's not what happened. The Ukrainian military fought back with a lot of skill and bravery. They caused big losses to the Russian forces and got admiration from the whole world.
But it's not just about the fighting. Even outside the battlefield, Ukraine's government has shown it can take a lot. Ukrainian President Volodymyr Zelenskyy set the example by saying he'd stay in Kyiv when the war began. Other elected leaders all over Ukraine did the same, with the parliament regularly meeting in Kyiv. Local leaders also played big roles in keeping things safe and helping people affected by the war.
Public sector performance
Even the government sector that takes care of the public sector, like trains and the mail, did a great job despite the risk of Russian attacks. Trains in Ukraine kept running as planned, helping people escape danger and supporting the struggling economy.
The Ukrainian postal service was one of the first to start working again in areas freed from the conflict. They even found time to make a series of special stamps to honor the Ukrainian effort in the war. The National Bank of Ukraine took some fantastic measures to ensure the money didn't lose its value, and the country's power supply stayed working even after Russian planes attacked it for six months. They started selling energy to other places again in the spring of 2023.
Private sector innovation
Businesses in Ukraine also showed they're pretty tough. Every company working in Ukraine has a story about staying strong during the war, but they all share one thing: Ukrainian strength. Many Ukrainian factories, farms, office buildings, shopping centers, restaurants, and hotels found ways to keep running, even though they had to deal with regular Russian air attacks, power cuts, the blockade of Ukraine's Black Sea ports, and the problems caused by the war.
Technological and economic resilience
With the war at its peak, Ukrainians could still talk to each other. Ukraine's phone companies and internet providers did an excellent job keeping people connected, even during the war. Amazingly, Ukraine's technology industry grew, with more tech startups making innovations to help the Ukrainian military. The banks in Ukraine also stayed strong, partly because they used digital stuff before the war to ensure things didn't stop even when Russia was attacking.
Economic challenges and triumphs
Even with the strength and resilience shown by Ukraine, the war hurt Ukraine's economy a lot. According to the State Statistics Service, Ukraine's money-making organization, GDP, decreased by 29.1% in 2022. Even so, considering Russia is doing everything possible to destroy Ukraine, the forecasts for growth this year are something. The last year and a half have been the biggest test, and Ukraine's economy has passed with top marks.
What is the global impact of Ukraine's resilience against Russia?
The global impact of Ukraine's resilience against Russia means how Ukraine's ability to stand strong against Russia's actions and aggression affects the world. Let's break down what this means.
Inspiration for others
Geopolitical effects
Energy security
Economic impact
Sanctions and diplomacy
Security and alliances
Humanitarian impact
Information wars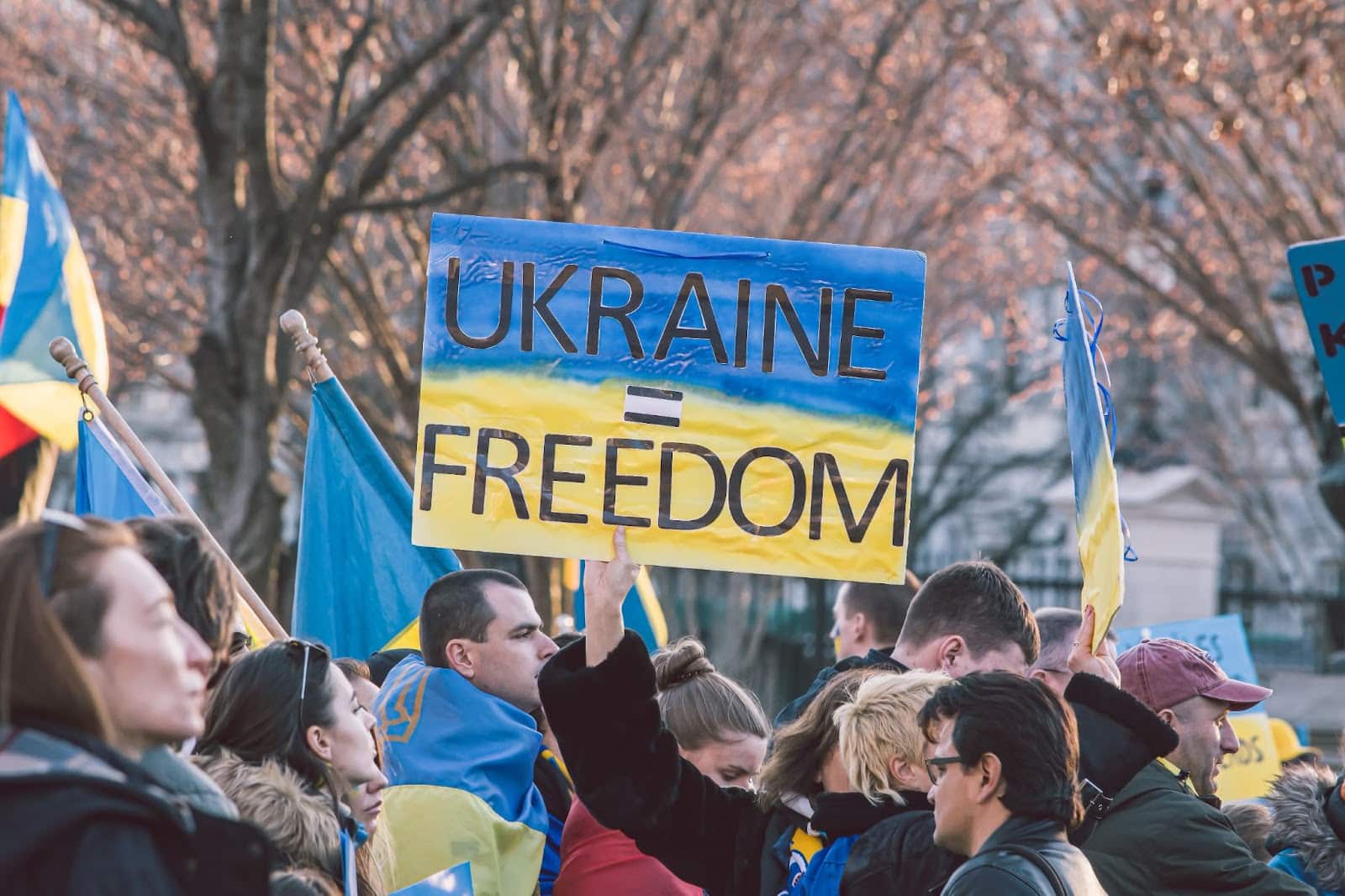 Inspiration for others
Ukraine's determination to resist Russia can inspire other countries facing similar challenges. It shows that a nation can stand up to a stronger aggressor when its people are determined and united.
Geopolitical effects
The conflict between Ukraine and Russia has broader consequences for world politics. It affects how different countries and alliances, like NATO and the European Union, deal with Russia's actions in Eastern Europe.
Energy security
Ukraine is vital for the transportation of natural gas from Russia to Europe. The conflict and Ukraine's ability to keep its energy systems working impact how safe European countries feel about their gas supplies. It can also change how these countries handle energy.
Economic impact
The conflict affects Ukraine and nearby countries economically. Ukraine's ability to keep some economic stability influences how countries in the region trade, invest and make economic policies.
Sanctions and diplomacy
The world has placed sanctions on Russia because of what's happening in Ukraine. Ukraine's strength can affect how well these sanctions work and how negotiations go to solve the conflict.
Security and alliances
Ukraine's ability to hold its ground shows how important defense alliances like NATO are. It can encourage member countries to stick together and be ready to defend each other, especially when they see how Ukraine is protecting itself.
Humanitarian impact
The conflict has forced many Ukrainians to leave their homes, creating a humanitarian crisis. International groups and nearby countries are affected when they have to help these people. Ukraine's strength impacts these efforts and how they help people who must leave their homes.
Information wars
The conflict also involves spreading false information. Ukraine's efforts to fight this misinformation affect how we talk about the use of false news worldwide.
Ukraine's strength against Russia has a significant effect on the world. It can inspire other countries, change world politics, affect energy and money, influence how we use sanctions and communicate with other countries, show the importance of defense alliances, impact how we help people in need, and change how we think about fake news. Ukraine's ability to stand up to Russia influences the world and how we deal with conflicts and international rules.
Challenges that Ukraine will face in the long run despite its resilience 
War has a lasting impact. No matter how strong a country stands, challenges are bound to come. In this section, we'll delve into the difficulties and obstacles that Ukraine continues to face in the ongoing war with Russia. These challenges are crucial to understand as they shape the path forward and the potential for a decisive outcome.
Russia's stronger military
Ukraine is up against a bigger and more powerful Russian military. They have more soldiers, better equipment, and more money for their military.
Money troubles
The war costs Ukraine a lot of money. They have to fix things that get damaged, help people who have to leave their homes and keep their military going. Finding enough money for all this is tough.
Helping people
Because of the war, many people in Ukraine need help. They don't have a place to live and need food and things to stay safe. Ukraine has to figure out how to give them the help they need.
Lies and fake news
Russia is spreading lies and fake stories to confuse people. They want to make Ukrainians believe things that aren't true. It's hard for Ukraine to fight against these lies.
Complicated politics
The war isn't just about fighting. It's also about politics and deals between countries. Ukraine has to deal with tricky politics and make sure they have friends on their side.
People's different views
In Ukraine, people have different ideas about how to handle the war. Some people want to fight hard, while others want peace. This can make it hard for Ukraine to make a decision.
Stuck in one place
There's a part of Ukraine called Donbas where the war isn't moving forward. It's like being stuck in one place. Ukraine needs to figure out how to win back this area.
Needing help from friends
Ukraine needs help from other countries to keep going in the war. They need weapons, money, and support. Making sure they keep getting this help is a challenge.
Mental and emotional struggles
The war is tough on people's minds and emotions. Dealing with all the bad things that happen can be hard. Ukraine has to help people stay strong.
Finding the bad guys
Some people have done bad things during the war. Ukraine has to find these people and ensure they are punished for what they did.
In a nutshell, Ukraine faces big challenges in this ongoing war, including dealing with a stronger opponent, money problems, helping people affected by the war, countering lies, and handling complicated politics. They must also keep their people together and support their soldiers' mental health. It's not easy, but Ukraine is working hard to overcome these challenges and resolve the war.
The potential of a turning point in the Ukraine-Russia long war
The conflict between Ukraine and Russia has been going on for quite some time, and we might be on the brink of a major turning point.
Ukraine's strength matters: How strong and determined Ukraine is can make a big difference in how the war turns out.
The power of resilience: Resilience means being tough and not giving up, even when things are hard. If Ukraine remains resilient, it could change the war's course.
Changing the game: Ukraine's resilience can be like a game-changer. It's like when a sports team is losing, but then they start playing really well, and everything turns around.
Winning over time: If Ukraine can keep being strong and not give up, it could lead to a point where they start winning more and more. That would be a turning point in the war.
Making the other side give up: The more Ukraine can keep going, the more likely it is that the other side, in this case, Russia, might give up or be more willing to make peace.
Turning the tables: In 2022, Ukraine surprised the world. Many people used to think Ukraine was a divided and passive place. But they proved everyone wrong with their determination to stay independent.
Diplomacy and negotiation: Resilience can also help Ukraine in talks and negotiations with Russia. If they are strong, they can get better deals and make the other side more willing to find a peaceful solution.
Now, as we think about the possibility of a turning point, we're watching to see if Ukraine's strength and determination will lead to a big change in this long-standing conflict. We're not sure what will happen, but the lessons we're learning from Ukraine's experience are super important.
In the coming years, we'll see if Ukraine's ability to keep going and adapt will be the game-changer that makes things different in Eastern Europe. It's a story that's still unfolding and will shape the region for a long time.
Conclusion
Ukraine's incredible resilience is like a superhero power in the ongoing war with Russia. Think of it as their unbreakable shield, the force that helps them withstand difficult times and continue fighting. It's surprising everyone and might change the course of events in Eastern Europe.
Even though they're facing off against a formidable adversary, Ukraine's determination is the superhero's unwavering spirit that keeps them pushing forward. This determination could be the key to big changes in this long-lasting conflict. So, Ukraine is teaching us all that being strong and not giving up, no matter how tough things get, can make a difference!