Explore the incredible ways technology is transforming the healthcare field for patients like yourself. From telemedicine to AI diagnostics, this article explores the practical ways technology is transforming the medical landscape, improving patient care, and enhancing your overall healthcare experience.
In the ever-evolving landscape of healthcare, the use of technology in medicine has emerged as a pioneering force, revolutionizing the way we approach diagnosis, treatment, and patient care. From lightning-fast diagnostics to the advent of virtual doctor visits, technology has not only improved the efficiency of healthcare but also expanded the boundaries of what's possible in the medical field. This blog post delves into the multifaceted world of technology in medicine, exploring a spectrum of innovations and their applications.
From artificial intelligence and nanotechnology to telemedicine and 3D printing, we'll unravel the remarkable ways in which cutting-edge technologies are reshaping the future of healthcare. Additionally, we'll navigate the ethical dilemmas and challenges posed by these innovations, reminding us that with great power comes the responsibility to balance progress with privacy and equity. So, let's embark on a journey through the incredible realm of technology-driven healthcare and its profound implications.
What is the use of technology in medicine?
Technology in medicine is like a superhero sidekick, helping doctors, nurses, and you for better healthcare. It's not just about fancy gadgets, but how they save lives and make things easier.
Diagnosing faster
Telemedicine
Robot helpers
Smart pills
Health apps
3D printing
1. Diagnosing faster
Imagine a doctor who can quickly see inside your body without cutting you open. That's what tech does – like X-rays and MRIs. It helps doctors spot problems sooner, so you get better quicker.
2. Telemedicine
You don't always need to rush to the hospital. With tech, you can talk to a doctor on your phone. It's like a virtual check-up, saving time and trouble.
3. Robot helpers
Robots may sound like science fiction, but they're real. They help in surgeries, making them more precise and safe. You're in good hands!
4. Smart pills
No, not pills that solve math problems! These pills can send info about your health to your doctor. It's like having a tiny health reporter in your tummy.
5. Health apps
Apps on your phone can track your fitness, remind you to take medicines and give health tips. They're like personal health coaches, in your pocket.
6. 3D printing
Sometimes, you need a special part of your body. 3D printing can create custom-made limbs or organs. It's like magic for healthcare.
So, technology in medicine isn't just cool; it's a lifeline. It helps you stay healthy, saves time, and makes sure you get the best care possible. Embrace the tech – it's on your side!
What is the application of nanotechnology in medicine?
Nanotechnology in medicine is like tiny super-scientists working to make you healthier. It's all about using super small stuff to help your body fight diseases and stay well. Here's how it works:
Targeted drug delivery
Smart imaging
Tiny machines
Diagnosing diseases
Better materials
1. Targeted drug delivery
Imagine sending medicine straight to where it's needed, like a missile hitting a bullseye. Nanotech can make it happen. Those super small particles carry meds right to the sick spot, making treatment more effective and reducing side effects.
2. Smart imaging
Doctors need clear pictures inside your body to see what's wrong. Nanoparticles can act like little beacons. They light up trouble areas, making it easier for your doctor to spot issues early and take action.
3. Tiny machines
Nanobots, the tiniest robots you can think of, can do tasks inside your body. They can fix things on a microscopic level, like unclogging blood vessels or removing harmful cells.
4. Diagnosing diseases
Nanotech helps doctors find diseases early. It's like having super-powered microscopes that spot tiny signs of trouble, helping you get treatment sooner.
5. Better materials
Nanomaterials make stronger, longer-lasting medical tools and implants. Think about super tough artificial joints or durable dental fillings.
In a nutshell, nanotechnology in medicine is all about using the tiniest things to keep you healthy and make treatments work better. It's like having a team of mini superheroes inside your body, working for your well-being.
What is the use of computers in the medical field?
In the medical world, computers are like super-smart helpers. They do lots of important things to help doctors, nurses, and you stay healthy. Here's the lowdown on how computers are big-time players in the medical game.
Storing your health info
Diagnosing diseases
X-rays and scans
Virtual surgery practice
Medication help
Telemedicine
Research and discoveries
1. Storing your health info
Computers are like super-secret keepers for your health records. They store all your info – from check-ups to prescriptions – in one safe place.
2. Diagnosing diseases
Doctors use special computer programs to figure out what's wrong with you. These programs help spot diseases and suggest the best treatments.
3. X-rays and scans
Ever seen those cool X-ray pictures? Computers help doctors see inside your body. They make X-rays and scans crystal clear so doctors can spot problems.
4. Virtual surgery practice
Surgeons practice their moves on computer simulations. It's like a video game, but it helps them get ready to fix you up for real.
5. Medication help
Computers help keep track of the medicines you need. They make sure you get the right dose at the right time.
6. Telemedicine
Now, you can even see a doc through your computer. It's called telemedicine, and it's super handy when you can't make it to the clinic.
7. Research and discoveries
Scientists use computers to find new cures and treatments. They crunch numbers and run experiments to help you stay healthier.
So, computers in the medical field? They're like your health's best buddies, making sure you're in tip-top shape!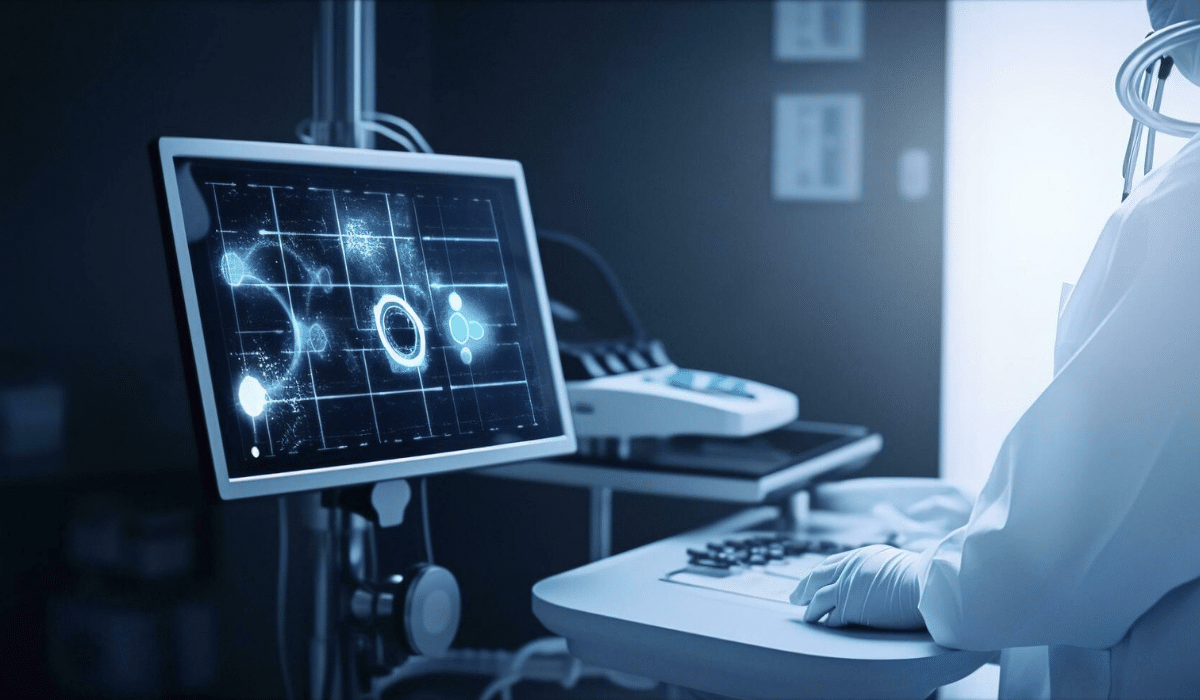 What is the application of rDNA technology in medicine?
So, you're probably wondering, "What's the deal with this rDNA technology in medicine?" Well, let me break it down for you in simple terms.
Making insulin
Fighting diseases
Diagnosing illness
Enzyme production
Gene therapy
1. Making insulin
One of the coolest things about rDNA tech is how it helps produce insulin for folks with diabetes. You see, we can take a little piece of DNA and stick it into bacteria. Those bacteria become like tiny insulin factories, giving us a way to make more insulin for people who need it.
2. Fighting diseases
With rDNA, scientists can create vaccines and drugs to fight all sorts of diseases. They insert genes into microorganisms to produce these vaccines, making our immune systems stronger and helping us stay healthy.
3. Diagnosing illness
Ever heard of genetic testing? rDNA tech plays a big role there. It helps identify genetic disorders, allowing doctors to tailor treatments to your specific needs. It's like a personalized medicine plan just for you!
4. Enzyme production
Enzymes are like the worker bees of our bodies, helping with all sorts of chemical reactions. rDNA helps produce specific enzymes, which can treat various conditions and even break down harmful substances.
5. Gene therapy
Sometimes, our genes go haywire and cause diseases. rDNA technology lets scientists fix those misbehaving genes, potentially offering cures for genetic disorders.
In a nutshell, rDNA technology is a game-changer in the medical world. It helps us create treatments, medicines, and even personalized solutions for a healthier you!
What is the role of AI and ML in medical diagnosis?
Artificial Intelligence (AI) and Machine Learning (ML) are changing the game in medical diagnosis. They're like super-smart assistants for doctors. Here's how they do it.
Spotting patterns
Faster results
Personalized care
Fewer mistakes
Telemedicine
Early detection
1. Spotting patterns
AI and ML analyze tons of patient data, spotting patterns that human eyes might miss. It's like finding a needle in a haystack.
2. Faster results
These technologies work lightning-fast. They help doctors make quicker and more accurate diagnoses, which can be a game-changer, especially in emergencies.
3. Personalized care
AI and ML consider your unique medical history and genetics. They help doctors tailor treatments just for you, making healthcare more personal.
4. Fewer mistakes
Humans can make errors, but AI and ML are consistent. They reduce the chances of misdiagnosis, keeping you safer.
5. Telemedicine
With AI, you can get medical advice without leaving home. It's like having a doctor in your pocket.
6. Early detection
AI can catch diseases in their early stages when they're easier to treat. It's like getting a heads-up before a problem gets serious.
In a nutshell, AI and ML are super-powered assistants that help doctors work faster, smarter, and more accurately. They're like having a medical detective on your side, ensuring you get the best care possible.
What are the ethical dilemmas in implementing technology in healthcare?
The healthcare landscape is evolving with technology, yet it's not devoid of its challenges. Ethical dilemmas arise, warranting attention.
Balancing privacy and progress
Safeguarding data
AI bias
Equitable telemedicine access
Informed consent
Resource allocation
Workforce evolution
End-of-life choices
1. Balancing privacy and progress
Technology can compile a trove of health data, but how is it safeguarded? Striking a harmony between innovation and safeguarding personal information is imperative.
2. Safeguarding data
Healthcare data is a jackpot for cyber intruders. Ensuring its security is an ongoing endeavor. Your private records are sought after by digital marauders.
3. AI bias
AI aids physicians in decision-making, but it can harbor biases. If the data it learns from is skewed, it might furnish erroneous counsel.
4. Equitable telemedicine access
It's incredibly convenient, but not everyone can partake. Disparities in accessing telemedicine can be inequitable.
5. Informed consent
When your physician deploys novel technology, do you genuinely grasp the proceedings? Being well-informed about the technology employed in your care is pivotal.
6. Resource allocation
Hospitals grapple with finite resources. Technology can assist in allocation, but is it invariably equitable? You hope you're not left wanting.
7. Workforce evolution
Technology can outperform humans in certain tasks. This bodes well for efficiency but raises concerns for healthcare professionals. Nurses and physicians may have apprehensions.
8. End-of-life choices
Technology can prolong life, but should it? Determining when to let go is a weighty decision.
Bear in mind, that technology in healthcare is a game-changer, though not without its stumbling blocks. Striking a balance between progress and ethics is pivotal.
FAQs
1. How is technology being utilized to improve patient care in healthcare settings?
Technology is used to enhance patient care through electronic health records (EHR), telemedicine, remote monitoring, and decision support systems. It streamlines communication, reduces errors, and improves patient outcomes.
2. What are the main benefits of electronic health records (EHR) and how do they impact healthcare delivery?
EHRs centralize patient information, making it easily accessible to healthcare providers. This improves coordination of care, reduces paperwork, and enhances patient safety through better information sharing.
3. What privacy and security measures are in place to protect patient data in the digital healthcare environment?
Healthcare organizations implement encryption, access controls, and strict compliance measures (such as HIPAA in the United States) to safeguard patient data from breaches and unauthorized access.
4. How are wearable health devices and mobile applications changing the way individuals manage their health?
Wearables and health apps enable individuals to track their health metrics, such as heart rate and steps taken. They promote self-monitoring and encourage healthier lifestyles.
5. What challenges and ethical considerations are associated with the growing use of technology in medicine?
Challenges include data privacy, data accuracy, and the potential for bias in AI algorithms. Ethical concerns revolve around patient consent, equitable access, and the responsible use of technology in healthcare.
Conclusion
The pioneering use of technology in medicine represents a transformative force that is reshaping the healthcare landscape. From telemedicine making healthcare more accessible to AI-driven diagnostics improving accuracy and efficiency, these advancements are revolutionizing patient care. The integration of wearable devices and health apps empowers individuals to take control of their well-being.
Moreover, electronic health records streamline data management, enhancing coordination among healthcare providers. However, it's essential to strike a balance between innovation and patient privacy, ensuring the ethical use of these technologies. As we move forward, the relentless pursuit of optimized healthcare through technology promises a future where healthcare is more personalized, efficient, and effective, ultimately leading to healthier lives and improved patient outcomes.